Coiled Hose Bundle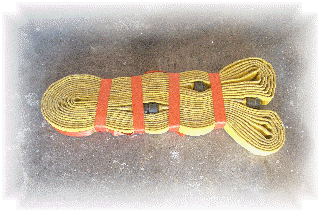 Thanks for taking the next few moments to learn how this patented device will allow you to accomplish more in a few minutes at the end of an incident when fatigue is truly setting in; and (as an option) function as a Rope Rescue Hand Winch; and/or prepare any "attack" or "hotel" or "high rise" hose extension bundle for immediate/confined space deployment... an incredible SAFETY enhancement in which most hose loads actually prevent the execution of such basic Laws of Physics without extensive manipulation, arrangement and re-arrangement of the hose in whatever space may (or may not) be available.
Yes, with the assistance of standard 2" trailer hitch receiver on the back of a pick-up truck I rolled, stacked, inventoried, and moved [over 100' of travel distance from an exterior drying rack surrounded by exposed dirt] over 3200' of 3", 2.5", and 1.75" Double Jacket fire hose back to it's storage racks/area... SOLO... but in far less time than a team of even eight (8) of us could have performed on our hands and knees as we swept the debris off the bottom side of every inch of over a half mile of hose.
The funny part about this story was I told no one within my volunteer department I had performed this duty... by myself... during the first few drops of the fall/winter season's first heavy rain storm on a weekday afternoon.
When all of us (volunteers) reported a week later to our next training drill, there was a feeling of great frustration as everyone realized [and assumed] we had all dropped the ball as none of us had taken the initiative and crucial time and effort to get a few of us together to remove the hose before the rain had hit... and therefore it had became much too late to even hope for a few consecutive warm days to reverse the water exposure.
However, upon viewing the 'empty' hose drying rack, the thought then transitioned into the possibility the entire complement had been STOLEN... but then upon reporting to the apparatus room to inventory what hose may have remained, everyone was absolutely amazed to see every inch accounted for... just as "I" had left it... but my fellow volunteers had no idea and could only guess it must have been perhaps an inmate crew who were assigned this grueling task... like a bunch of Santa's elves... to accomplish this important yet incredibly undesirable detail for us.
You know when you know you have one over the rest of them!?! ...and it still leaves them wondering?
Well, Hello! Bottom line they were all very appreciative they were relieved of this duty yet very skeptical when I stated I had accomplished this.... ALONE! After you view the remaining information at www.hftfire.com you will always know! Yes, this hose roller is like none other because of it's patented removable Crank Handle and optional Extension Arm attachments and Rope Rescue pulley system designed to accomplish more than we ever dreamed in a configuration that will fit into a standard "baseball bat bag" and therefore, store nearly anywhere on you rig to be used both on or off the fire ground in a moments notice.
Please note in every demonstration the roller is attached to either one (1) or two (2) small 2" X 3" X ¾" Quick-Disconnect Mounting Bracket(s) [designed for strength and durability AND yet small enough to be affixed to an apparatus bumper or standard 4" X 4" wooden post in the most remote locations on the globe] as the hose is rolled, coiled, and prepared (in a foot print area small enough to protect your crew from the harsh elements of weather) ...and then fully charged from within limited or confined space and then deployed around right angle turns on the most difficult paths to traverse.
My hope is you find this informative at the very least and perhaps as an inspiration to consider the acquisition of such an incredible 'partner' in the Fire Service that will allow you to not only roll hose of nearly any size from 3/4" Peanut Line to up to 5" LDH, but deploy it in a much SAFER and more EFFICIENT manner, affect SAFE Rope Rescue Practices, and restore your apparatus to it's state of readiness with the least amount of time and effort like never before!
I welcome any and all comments and feedback you feel compelled to share! It is never about us, but those we have committed our LIFE to serve!
Proverbs 18:15 A wise many in open to new ideas... in fact he searches for them!
www.hftfire.com
www.hoseroller.com
info@hftfire.com
(888) 602-FIRE
A Brief Summary of the Inventor:
Rich "Hoffy" Hoffmann, holder of two (2) separate patents and inventor of the HFT "Hoser" (Standard Roller), the HFT "Viper" (Hose Roller/Coiler), the HFT "Rescuer" (Rope-Rescue Winch), and literally the World's First "operational" fixed facility Fire Hose Cabinet that even a child can deploy in seconds from within a confined space... [Complete with the creation and execution of all associated hose loads and deployment methods] ...first entered the Fire Service in 1979 as a Fire Fighter (Seasonal) for the "new" California Department of Forestry (CDF). From inception three (3) days after graduating high school through his unexpected and untimely medical retirement in 2002 as a Fire Captain/ Peace Officer, he has been recognized for many acts of honor and courage for what every fire fighter as yourself continues to do to make that incredible difference as we put other lives before our own both on and off the line-of-duty. "Is there truly any other way?"
Throughout his training and development, he consistently excelled in each course of instruction [securing dozens of certifications upon completion of over 175 college semester units] as exemplified when he graduated as the top, #1 Student/ Candidate in his Fire Academy class when he promoted to the position of Fire Apparatus Engineer for CDF where he fulfilled structural, wildland, and ground 'air-attack' assignments during six (6) fire seasons . His first full-time year round assignment [seven (7) years] as a Fire Fighter/ Security Officer (Dual duty as both a Fire Apparatus Driver/Operator and Peace Officer) was with the California Military Department at Camp Roberts Military Reservation in San Luis Obispo & Monterey Counties.
During his "off-time" before CDF replaced the "0-2" military version of a Cessna Skymaster with today's faster OV-10 Bronco, he was given a rare opportunity to fly third seat out of the Paso Robles Air Attack Base where he photographed and video recorded nearly forty (40) hours of some of the most intense wildland fire behavior and air operation suppression activities ever captured on tape from the air. And because each clip was the first to include the full audio recording of all air-to-air, air-to-ground, and ground-to-ground radio transmissions (and the entertainment value of each 'EXPLITIVE' expressed through the on-board intercom!), many of these 'self narrated' scenes were included in the fire aviation history documentary 'Fire Fighters in the Sky' which has aired many times internationally across the globe on 'The Discovery Channel' since 1996.
When he wasn't "on-call" as a volunteer Fire Fighter/EMT, reloading air-tankers and performing other "air-ops" flying tree top level above a few of the largest California Wildland Fires in recent history, he served his most recent full-time position as a Fire Captain, Correctional Facility (Tasks & KSA's upon nearly eight (8) years service credit) where he supervised, trained, and lead incarcerated inmates to perform the full duties as both structural and wildland fire fighters as part of an engine company assigned at a prison facility for the Department of Corrections (again serving a dual position as a "Pig in HEAT!") ...total experience spanning 23 consecutive years both professional and volunteer service.
In addition to being certified as a Hazardous Materials Incident Commander/ Specialist/ Technician/ FRO/ & Decon INSTRUCTOR, served on a Critical Incident Debriefing Team, served as a High and Low Angle Search and Rescue/Swift Water Rescue/Dive Rescue Team member, EMT-1A/ Ambulance Driver, and became certified as a Fire Officer, Fire Prevention Officer, and Fire Investigator, he also obtained his State Fire Marshall certified Fire Instructor (PACE II Committee Registered) to teach sixteen (16) subject areas including Fire Control, Command, Management, Investigation, Prevention, Fire Apparatus Driver/Operator 1, etc.
On his time off, he enjoys many other passions including his photography which can be viewed at: www.rhphotographics.com, the link to this page including many rendered 'Paintings,' and yet a third site on line where he video taped and edited and produced this documentary of the Experimental Aircraft Association's B-17 FLying Fortress when it visited the Napa area in May of 2007.
And yes, this and $1.85 will still only procure a regular cup of coffee at Starbucks! ...which keeps us humble to remember:
It is never about us, but those we commit and dedicate our lives to serve.
...as our 'Personal Safety' relies on our ability to balance 'Risk vs. Benefit' as we embrace:
Courage is never the absence of fear, but rather the needs of another are greater than that fear!
Thank you GOD for the gifts to serve no higher honor we can ever imagine granted us! ...no greater purpose to use our lives! ...never for us! ...but for others! ...many we have not yet met! God help me to be their...
"FAITH AND HOPE ...IN ACTION!"
Proverbs 18:15 A wise man is open to new ideas. In fact, he searches for them!
To view some incredible 'Photo-Paintings' captured in his travels of some of the most beautiful places on the globe... please click here!